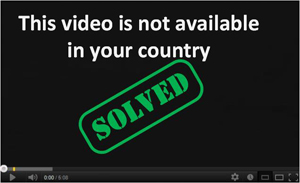 Smart DNS Proxy allows access to geo-blocked Streaming websites (Videos on demand, TV, Sport, Music) from anywhere in the world.
Today thousands of people from different countries use DNS method to access Netflix, Hulu/Hulu Plus, Vudu, Spotify, Pandora Radio, BBC iPlayer, Itunes, and hundreds of other online channels regardless of their geographic location. Smart DNS is all about network settings, so no software installation is required.
It's very easy to configure DNS on virtually any Internet-enabled device; such as routers, smartphones, desktop computers, laptops, TVs, and gaming consoles. It is also compatible with most popular mobile operating systems, like Android, BlackBerry, Windows Phone, and iOS.
Smart DNS Proxy method is faster than any VPN since it allows services like Netflix, Hulu Plus, Vudu, and Pandora to stream the content directly to your computer/TV/device.
Unblock Us is recommended Smart DNS Proxy service:
Unblock Everything on Netflix, Spotify, Hulu and More:
$4.99/month
How does Smart DNS Proxy work?
Every Internet-enabled device has an IP address. It's made up of numbers, like a street address. Smart DNS Proxy providers offer simple solution. They give you an address where the content you want is available. It's like moving your computer or other device without actually moving it.
See also
See also