A set-top box is a device that brings online streaming services to your big screen TV and also allows you to watch your personal movie collection.
This type of streaming device gets data (the video stream) via a wired or Wi-Fi connection. 
Today, dozens of similar devices can be found on the market but not all of them will offer you a pleasant viewing experience. In this article we will focus only on the best-of-the-best devices. If you are not interested in a set-box style of device you should take a look into Dongles.
You could argue that Roku is the most popular device for media streaming. It offers a lot of features and brings you hundreds of extra channels. The last generation of Roku box – Roku 3 supports HD and media streaming from local networks.
Channels that could be watched using Roku include Netflix, Hulu, Amazon, HBO Go, YouTube and many user created channels, featuring themes like sports, music, documentaries, news and more.
From a technical perspective Roku is the Rolls-Royce of set-top boxes. It has dual-band Wi-Fi, remote with a headphone jack, Ethernet, a USB, an SD card slot, and the ability to send Netflix and YouTube Videos from mobile phones. In short this device is all that you need for media streaming.
Price USD $99.
Amazon Fire TV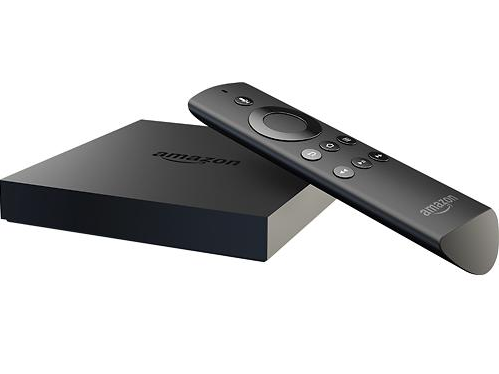 The Amazon Fire TV is relatively new product. This is a device that can stream anything you can find on Amazon Prime, Netflix, Hulu Plus, YouTube, Hulu, Crackle, Pandora, ESPN, and more.
The main advantage of this tiny box is an interface that allows you to easily find any movie, episode, channel, or game by using a voice search. This is the main feature that distinguishes this device from other competitors. If you want to access your personal movie collection on the Amazon Fire TV you will need to install Kodi (former XBMC).
Good news – when you buy this device from Amazon you also get a free 30-day Amazon Prime trial. The price of the Amazon Fire TV recently went down, so now you can bring it home for:
Price USD $69.
Apple TV is a veteran of set-top boxes. It has been on the market for quite some time, so many users have experience with this device.
The Apple TV has a nice simple interface, supports media streaming from iOS devices, as well as devices with iTunes, and any AirPlay capable devices. It also has a lot of channels available such as: Netflix, Hulu, the Wall Street Journal, HBO GO, Disney, PBS, YouTube, Vimeo, ESPN, and more (no Amazon VOD yet – sorry)! You can jailbreak this device, which means you can easily install Plex or Kodi (XBMC) and stream movies and shows from any local storage.
If you're a die-hard Apple fan this device will be your obvious choice.
Price: USD $99
Of course, there are many more choices you can choose from. For media streaming you always can use TV dongle, Gaming Console, build your own media centre, or buy pre-built one, but the devices reviewed in this article are ones we believe are the best on the market and they will definitely be worth every penny you pay for them.
See Also
Convert your HDMI TV to a Media Center with Dongle Streaming Stick
See also