It's no secret that you can enjoy a huge collection of TV shows, movies, and sporting events available online. But not everyone is aware that you can use the big screen in your living room to enjoy crystal clear quality 4K video instead of being limited to the confines of a computer. Today it's easier than ever to watch content that is normally available with a cable subscription. And for an added bonus: some content is available exclusively for web enabled devices.
Here we will explain how you can watch Internet content on a big TV screen using a dongle. A dongle is a small device, about the size of USB stick, that plugs directly into the HDMI port of your TV (all new TV sets have this kind of port). To use these devices, one must simply connect to available WiFi.
The most popular devices on the market today are Google Chromecast, Roku Streaming Stick, and Amazon Fire TV Stick. Let's take a look:
Google Chromecast has great applications that stream media from Netflix, YouTube, HBO GO, Hulu Plus, Pandora, and plenty more. It can also stream video from your Android and iOS devices like a phone or tablet. This is a very popular device and the number of uses and applications for Chromecast grows daily. Many people even "hack" Google Chromecast to get even more out of this nifty little streaming stick.
The main disadvantage of the Google Chromecast is the absence of a remote. You can only control the device by using a smartphone, tablet, or computer.
Price: USD $22-$35
Bottom line: If you are planning to stream data from your mobile devices and you like to control everything from your phone – this device is perfect for you.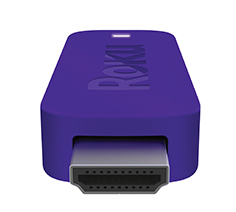 This device is very similar to its older brother, the Roku set top box. Over 1,200 apps are available most notably Netflix, Amazon Instant (and Cloud Player,) HBO GO, Hulu Plus, Pandora, MLB.TV, Vudu, and Showtime Anytime. This dongle even has a small selection of games pre-installed. It has a real remote and on-screen interface which works with a TV screen more intuitively than the Chromecast.
Price: USD $39.90
Bottom line: If a variety of applications is what's important for you and you like using a real remote – consider Roku.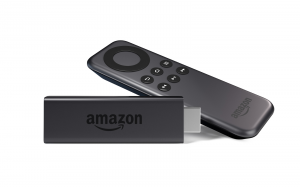 This is a device positioned somewhere in the middle between Chromecast and Roku. If you are an Amazon Prime subscriber you can stream Amazon Instant movies for free using this device. Third-party applications that are also supported by this dongle include Netflix, YouTube, Hulu Plus, Watch ESPN, Spotify and Pandora. The interface of the Amazon Fire TV Stick is very fast and efficient. Unfortunately, there is no HBO Go and no iOS control applications included on this device yet. On the plus side there are hundreds of games available to use on the Fire Stick.
The remote is very good, but it uses Bluetooth technology to connect to the stick (meaning you cannot use a universal remote like Harmony with this device).
Price:USD $39.00
Bottom Line: If you don't care about having a wide variety of applications and are planning to use Amazon Prime you should consider this device.
The options for accessible content increase 1000% with the use of a virtual private network (VPN). With a service like IPVanish for instance, you can watch geo-restricted content and access the international catalogue of the post popular streaming sites. IPVanish is very user-friendly and can be configured on your router be compatible with the dongle streaming sticks listed above.
We hope this article will help you to make a choice. Enjoy online streaming!
Let us know if you have any questions or requests on how to set up other streaming devices.
See Also
Best Streaming Set-Top Boxes