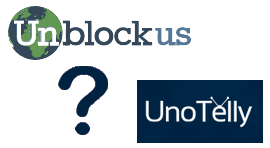 Unblock Us and UnoTelly are two of the largest DNS Proxy providers. They both allow you to access geo-blocked streaming for Video, TV, Music, Radio, and Sport websites from any country.
These providers are very similar, they both:
Give access to hundreds of channels
Work virtually on any Internet-enabled device; such as routers, smartphones, desktop computers, laptops, TVs, and gaming consoles
Compatible with most popular mobile operating systems like Android, Windows Phone, and iOS
Make it easy to switch between regions
Nonetheless, some differences between the two exist:
Offers an iPhone and Android application which lets you switch regions with one click and automatically reactivates your IP address with Unblock-Us.com every time it changes
Has a current annual plan of only $49.90 or a monthly plan of $4.99 a month, similar to UnoTelly
Offers a Smart VPN service for free to any subscriber
Offers an application only for Android devices which lets you switch regions
Offers the ability to switch regions on the "top service". For example, you can have Netflix setup for one region, and BBC for another at the same time.
Ability to switch regions per device. For example, you can have a laptop setup for one region, and Apple TV for another at the same time
Offer VPN service for US, UK, Canada, Netherlands as part of "Gold Plan"
As you can see these differences are not very big. Unblock-Us is very mature company, a veteran on DNS proxy market, and it is a very popular choice, Unotelly offers more flexibility.
Both these companies offers one week free trial period without any commitment and we strongly recommend you take advantage of it, and find out which service you like more.
See Also
– Unblock-Us vs. Hola
– Unblock-Us Smarter VPN
– Smart DNS Proxy for Geo-blocked Sites
– Unblock-Us introduced VPN servive
See also